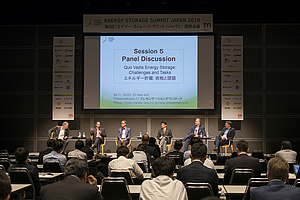 About ESSJ
ESSJ: Your Gateway to Japan's Energy Storage Market - Reasons to Attend
Messe Dusseldorf organizes the "Energy Storage Europe" trade fair and conference in Duesseldorf. It is regarded as one of the highest quality conference and expo in the field of energy storage. The 7th Energy Storage Summit Japan is to be held on Dec. 8, as an counterpart event of ESE, as online event for the first time in its history, being your "gateway to the Japanese energy storage market". Consisting of lectures and panel discussions, the conference will discuss various themes on energy storage. Past speakers include such leaders in energy storage as Mr. Masana Ezawa, Director Advanced Energy Systems and Structure Division Hydrogen and Fuel Cells Strategy Office, Agency for Natural Resources and Energy, METI, Mr. Takashi Aramaki, Chief, R&D Planning Department, Panasonic Corporation, and others.
This conference will, like no other, enable the audience to learn about the changing energy storage market in Japan and provide an online shake-hands opportunity with the C-suite speakers and delegates.
ESSJ2020 conference will go live streaming event
ESSJ2020 Online Conference was closed successfully on Dec.8.
Will provide viewers the same feeling of attendance of real event, as well as provide a networking opportunity with speakers.
ESSJ 2020 - International Conference for Energy Network・Teaming・Innovation
Date: December 8th (Tue.), 2020
  Conference: 10:00-17:30
  Online Networking: 18:00-18:45
  ※Englisch-Japanese simultanenous interpretation will be provided
Speakers:overview
Participation Tickets:available online in our webshop
| | | |
| --- | --- | --- |
| | 1-day pass | EUR 216 |
|     | Group discount | |
| | 3 to 4 participants | EUR 192 /person |
| | 5 or more | EUR 144 /person |
 *pls get organize your tickets by Nov. 30th, 2020!
*Both conference and online networking need advance registration separately.
*We shall provide you with the log-in access links for the event after receipt and approval of your registration by Dec. 7.
Reasons to attend
ESSJ 2020 will provide the same feeling of attendance as a real event and provide a networking opportunity with session session speakers and energy industry experts in Japan.
ESSJ 2020 will provide you with very special feeling of real event in all sessions where industry experts from Japan and overseas exchange knowledge and experience.
ESSJ 2020 enables interactive communication between speakers and participants
- Webinar participants can ask questions during session using Q&A function.
- Will provide online networking opportunity after the conference where speakers and
participants connect with each other directly.
ESSJ 2020 conference can be viewed wherever you are.
ESSJ 2020 is top class conference where top decision makers from the energy storage and renewable energy industries gather. Attendees will be able to make important connections with other delegates, and take away in one day information that would have otherwise required signifi cant time to research