Electrification of Commercial Vehicles
BloombergNEF (BNEF) published the annual Long-Term Electric Vehicle Outlook, on May 19. According to the research, sales of electric passenger vehicles are forecast to fall 18% in 2020, to 1.7 million worldwide – with the coronavirus crisis interrupting ten successive years of strong growth. However, sales of combustion engine cars are set to drop even faster this year (by 23%), and the long-term electrification of transport is projected to accelerate in the years ahead.
It shows electric models accounting for 58% of new passenger car sales globally by 2040, and 31% of the whole car fleet. They will also make up 67% of all municipal buses on the road by that year, plus 47% of two-wheelers and 24% of light commercial vehicles. BNEF's analyst says, "The Covid-19 pandemic is set to cause a major downturn in global auto sales in 2020. The long-term trajectory has not changed, but the market will be bumpy for the next three years."
E truck market gets more and more dynamic in the US and Europe





Nikola, an Arizona startup is developing futuristic semi-trucks powered by hydrogen fuel cells and batteries.To date, Nikola has racked up orders for about 14,000 electric trucks that represent $10 billion of future revenue–if they are all built and delivered. Nikola's business model is based on seven-year leases to shippers, such as beermaker Anheuser-Busch, that include the cost of fuel. Initially, it will start delivery of shorter-range, battery-only trucks in 2021, built in Europe with partner Iveco. That will be followed by longer-range Nikola semis running on electricity produced from hydrogen that should arrive in late 2021.
Electric trucks have been a dynamic space in recent years, ranging from Musk's plans for a Tesla Semi and Cybertruck pickup; Rivian's plans for electric pickups, SUVs and delivery vans for Amazon; U.K. startup Arrival's low-cost delivery trucks for UPS; and battery-busmaker Proterra's plans to supply components for electric, heavy-duty freightliner delivery vehicles.
In Europe, a world delivery giant Deutsche Post DHL Group has adopted 9,000 StreetScooter's electric trucks. With more than 56 million km in total mileage, the company boasts that they have achieved CO2 reduction by 32,000 tons.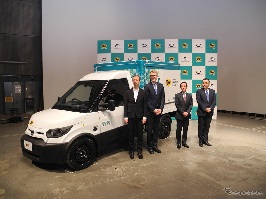 In Japan, Yamato Transport and Deutsche Post DHL Group subsidiary StreetScooter GmbH jointly developed Japan's first small-sized commercial sized commercial use electric vehicles (EV) specialized for delivery. 500 EVs are scheduled to bring in and start operating in Tokyo and surrounding three prefectures (Saitama, Chiba and Kanagawa) from January 2020.
As 20% of Japan's total CO2 emission derives from transport industry, electrification of mobility is highly expected to improve the situation. Also, EVs that are connected to the grid could be used in conjunction with electricity storage in emergencies or extreme supply shortages, to supply power to the grid. It will contribute to save lives and to build resilient communities. Under the circumstance, Dendosha Consortium is established by four industry leaders (NTT, Hitachi, Ricoh, and TEPCO) as secretariat consists of 40 entities (companies and associations) on May 11. The consortium members are mixture of various industry players, such as IT, electricity, banking and finance, insurance, trading, and beverage, ohter than automotive industry. It is important that stakeholders from various industries share issues of each member and cooperate to solve them in order to realize more CO2 reduction.
ESSJ 2020 will discuss on e-mobility in the "Mobility and Batteries: Trends and Technology" session. Please join.