Energy Storage Industry is Growing - ESSJ Provides Platform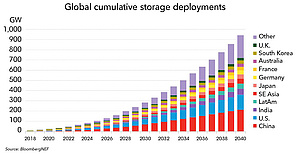 According to a study published by Bloomberg New Energy Finance, the global storage market will grow to a total of 942GW / 2,857 GWh capacity by the year 2040. An estimated investment of USD 620 billion will ave the way. One major driver for this process is the decrease of prices for lithium-ion storage, supposedly by 52% until 2030. According to this study, just seven countries (China, the US, India, Japan, Germany, France, Australia, South Korea and the UK) will dominate two thirds of the storage market by 2040.
It does not come too much as a surprise that China, which is investing in massive battery manufacturing and has a clear vision for e-mobility, also has announced a 10-year plan for developing it's own grad-scale energy storage industry and will surpass South Korea (leading now) and the United States.
As far as Germany is concerned, the German Energy Storage Association BVES and the consulting company TEAM CONSULT presented their findings and expectations for the German storage industry at the Energy Storage Europe in March 2019 in Düsseldorf. They expect that the German energy storage industry that realized a turnover of EUR 5 billion in 2018 will continue to grow this year. Most companies will probably hire new employees. Growth drivers are sector coupling and digitalization, decreasing costs for storage technologies and increasing e-mobility. However, it was also stated that markets outside Germany will contribute largely to the growth.
Regarding Japan, the latest developments will be discussed at the Energy Storage Summit Japan (June 4-6, 2019) in Tokyo. Sessions on the "International Comparison of the Framework for Storage", on "e-Mobility beyond cars" and "Storage Goes System" will provide insights into the Japanese market and will embedd this into the international situation. An exclusive energy storage site tour with presentations and explanations by technicians give insight into storage applications. Use this chance to discover the Japanese market! Tickets are available in our webshop.
News Source:
https://about.bnef.com/blog/energy-storage-620-billion-investment-opportunity-2040/
http://www.teamconsult.net/news/files/Pre_TEAM%20CONSULT_ESE2018_20180313_fv_web.pdf